Buying Property in Spain: New Builds vs Resale Properties
October 31, 2023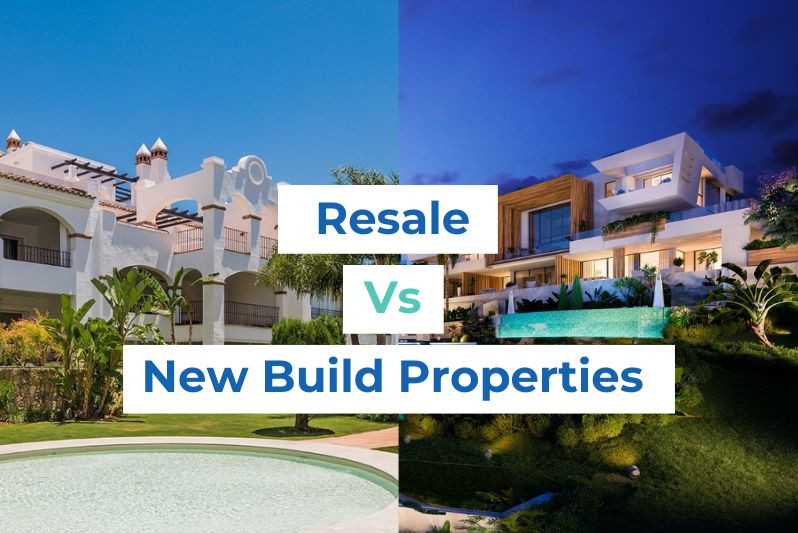 Spain's sun-kissed landscapes, vibrant culture, and charming towns have long attracted people from around the world to own a piece of this Mediterranean paradise. Whether you own a quaint cottage in Andalusia, a beachfront apartment in Costa del Sol, or a rural retreat in Catalonia, understanding the nuances of Spanish property choices is vital. One such decision, whether to opt for a newly built property or a resale, often leaves buyers in contemplation. Each option comes with its own set of pros and cons, making it crucial to know which one aligns best with your Spanish property dreams.
In this guide, we'll make these factors clear and straightforward, helping you make the choice that best suits your needs in Spain.
The Pros of New Properties and Developments
1. Contemporary Design: New build properties in Spain are synonymous with modern comfort. You can expect energy-efficient appliances, contemporary interiors, and cutting-edge technology from the get-go, providing you with a hassle-free and comfortable lifestyle from day one.
2. Customisation: As the first owner of a new property, you have the privilege of tailoring it exactly how you want it. Personalise everything from colour schemes to kitchen cupboards, creating the home you've always envisioned.
3. Lower Maintenance: New builds in Spain are pristine and free from the wear and tear that older properties often carry. This means less maintenance and renovation work, allowing you to focus on enjoying your Spanish property, rather than having to tackle a long to-do list.
4. Build Warranty: Newly constructed homes and developments frequently come with structural warranties, ensuring peace of mind regarding the property's structural integrity. Many issues are typically covered for the first ten years, providing a safety net should things go awry.
The Cons of New Properties and Developments
1. Higher Initial Costs: Modern amenities and conveniences often come with a higher price tag, varying depending on the location. New build properties are generally more expensive than their resale counterparts.
2. Incomplete Surroundings: New developments may be in areas that are still undergoing growth and development, resulting in an incomplete or quieter urbanisation. This can lead to temporary inconveniences from construction work and noise, as well as fewer things to do in the area.
3. Limited Character: New builds may lack the unique character and charm often associated with older and more established properties.
The Pros of Resale Properties
1. Character and History: Resale properties often have a certain character and charm that tells a story. Traditional architecture, antique features, and a sense of authenticity can be immensely appealing to homeowners and buyers alike.
2. Established Urbanisations & Communities: Resale properties are frequently located in well-established areas with mature gardens and well-operated community systems. You'll get to experience the charm and convenience of a well-rounded community right from the start, without having to wait for your neighbours to move in!
3. Potential Value: Older properties can offer excellent value for your money, particularly if it's in need of a bit of TLC or a complete renovation. There are some fantastic deals to be had if you're willing to put in the work, and you might find that you can get more space and a unique setting at a lower price compared to a new build.
The Cons of Resale Properties
1. Maintenance: Resale properties may require more maintenance and potential renovations. Be prepared for any additional costs and projects to bring the property up to modern standards. As the property ages, you may find yourself having to replace potentially costly elements.
2. Limited Customisation: While the existing charm and character may be a big selling point for some, it can also potentially limit your ability to customise the property to your preferences.
3. Uncertain History: Older properties might have hidden defects that require more investigation and a thorough understanding of the property's history. We would always recommend hiring an experienced lawyer in your local area to ensure that all of the necessary checks are carried out before you commit to a property.
Property Taxes in Spain
For newly built properties in Spain, you'll be required to pay VAT, also known as 'Impuesto sobre el Valor Añadido', which is currently 10%. If you're looking at purchasing a pre-owned property, you'll be required to pay a Property Transfer Tax (ITP), otherwise known as 'Impuesto sobre Transmisiones Patrimoniales', which varies between 6-10% of the property's value, depending on the region. These are both important factors you'll need to consider before buying a property in Spain.
In addition to the above, and particularly if you're planning on being a non-resident in Spain, there are a handful of other Spanish property taxes you'll need to know about. Did you know, that even if you don't intend on living in your property in Spain, you are still obligated to pay non-resident Spanish taxes? Many property owners are simply unaware that such taxes are in force and end up in difficult situations when the Spanish Tax Authorities find out.
Pay your Non-Resident taxes with Ease
There's no need to fret, as your non-resident taxes can be easily paid from anywhere in the world by utilizing simple online tax services like IberianTax. Using a simple questionnaire and with guidance from our team, you can easily, and most importantly, safely, complete and submit your Modelo 210 form to the Spanish Tax Authorities. With customer support available in English, German and French, there's no need to worry when it comes to paying your non-resident taxes in Spain.
Our intuitive online tax software can help you submit a range of non-resident taxes in Spain, including Imputed Income, Rental Income and Capital Gains Tax. There's no need for expensive accountancy fees either, as our services start at just €34,95!
Sign up for your free account today, and when you refer a friend, you'll both earn €10 credit towards your next tax submission!
property purchase
modelo 210
spain