Why partner with IberianTax?
Unlock a world of benefits with our B2B solution:
Easy-to-Use Platform: Seamlessly navigate through our intuitive B2B tool, allowing you to file your clients' non-resident tax returns effortlessly, even without prior knowledge of Spanish tax rules. Our platform simplifies the process for you.
Pay-per-Submission: Say goodbye to subscription fees! At IberianTax, we provide monthly invoices based on your submissions, so you only pay when you submit tax filings, ensuring cost efficiency and flexibility for your business.
Extra Earnings: Expand your revenue streams by offering comprehensive tax filing services to your non-resident property owner clients in Spain. Provide added value and increase your earning potential.
Enhance Client Loyalty: Strengthen your relationship with clients as you become their go-to source for reliable tax compliance. Build trust and loyalty by offering a comprehensive solution tailored to their needs.
IberianTax has made it so easy for us to file our clients' Spanish tax returns. We don't have to worry about any of the technical details, and we can be confident that our clients' returns are filed correctly.
John Smith, Real Estate Agent
Partnering with IberianTax has revolutionized our business. Their B2B solution empowers us to efficiently handle our non-resident property owner clients' tax filings, saving us time and resources.
Sarah Johnson, CEO of an Insurance Company
IberianTax has been a great partner for us. They've helped us to increase our earnings and improve our customer service. We highly recommend them to other businesses.
Jane Doe, Mortgage Broker
How we work together
IberianTax works with businesses to help file their clients' Spanish non-resident tax returns. The process is simple:
Create your account in a few minutes
Contact us to swiftly set up your account. You can generate multiple users under your business account without the need for any installation. Our 100% online platform ensures a hassle-free experience.
Let us take care of the calculation and submission
Leave the tax calculations and submission process to us. Our user-friendly system enables you to file your clients' tax returns within minutes, even if you lack tax expertise. Just provide basic information, and we'll take care of the rest, ensuring accurate and efficient filing with the tax office.
Keep your client's returns organized
Once a submission is completed, official receipts will be promptly delivered to your email. You'll be able to access all your clients' tax returns conveniently from a single location at any time, ensuring efficient management of their tax documentation.
Partner with IberianTax today to streamline your tax filing process and provide exceptional service to non-resident property owners in Spain.
Pricing
Pricing is based on the number of your client's non-resident tax returns filed through IberianTax.
Imputed Income tax
Starting at
28,89€
+ VAT per owner
Rental Income tax
Starting at
37,15€
+ VAT per owner
Capital Gains Tax
Starting at
123,93€
+ VAT per owner
Direct Submission to AEAT
Effortlessly submit Form 210 directly to the Spanish Tax Agency (AEAT), streamlining the filing process for you and your clients.
Real-Time Tax Calculations
Our system provides instant updates, ensuring accuracy and compliance with Spanish tax regulations.
Dedicated Customer Support
Access customer support from our team of tax experts. We are here to assist you every step of the way, addressing any queries or concerns you may have.
Available 24/7
Unlimited access to our platform. Easily access all your client's tax returns online.
Advanced Security Measures
Our platform employs advanced security features to safeguard your data and protect sensitive information. Your privacy and confidentiality are of utmost importance to us.
Frequently asked questions
How does the B2B solution work?
Our B2B tool allows you to license our tax filing software, enabling you to handle your non-resident property owner clients' tax returns without the need for knowledge of Spanish tax regulations. It's a seamless and efficient process that simplifies tax filing for your business.
How do I get started with Business IberianTax?
To get started, simply request a demo by emailing us at contact@iberiantax.com or visit our contact page at https://www.iberiantax.com/contact. Once you're registered, each business user will receive an email containing their account details, including a username and password.
What if I need support or assistance?
We're here to help! Our dedicated support team are available to provide assistance and answer any questions you may have. You can rely on our expertise and guidance throughout your partnership with IberianTax.
Is it exclusively for non-resident tax returns in Spain?
Yes, IberianTax specialises in non-resident property tax returns in Spain, including annual tax returns, rental income returns, and capital gains tax returns. Our platform is specifically designed to handle these tax filing requirements.
Do you have access to our client database?
Absolutely not. Your clients are exclusively yours, and we respect the privacy and ownership of your customer database. We do not bid for clients or engage in any internal competition with our business partners. Our role is to provide you with the tools you need to seamlessly complete your customer's tax returns online and to effortlessly generate additional revenue for your business.
Do I need to be a registered tax advisor to use your system?
No, there's no requirement to partner with the tax office or be a registered tax advisor to utilise our system. Our platform simplifies the submission of taxes, making it accessible to businesses without specific tax advisor credentials.
What are the benefits of using IberianTax?
By using IberianTax, you can enjoy a range of benefits, including:
Simplified tax filing process for non-resident property owners in Spain
Efficient organisation and retrieval of client tax returns
Access to a user-friendly platform that handles tax calculations and submissions
Dedicated customer support from our expert team
Increased revenue opportunities by offering comprehensive tax filing services
Free-to-use platform with transparent payment only upon submission to the tax office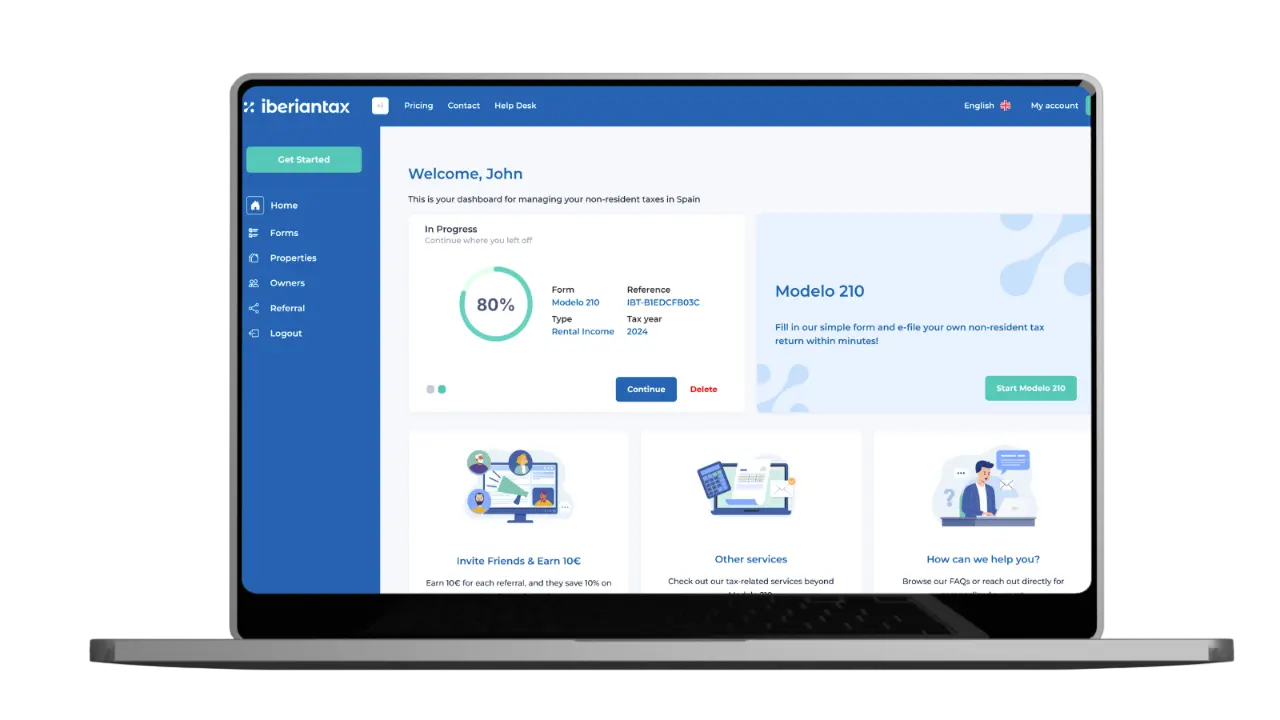 Ready to unlock new opportunities?
Get in touch today!
Discover how IberianTax's B2B solution can transform your business and simplify tax compliance for non-resident property owners in Spain. Contact us now to schedule a personalised demonstration or to learn more about our partnership opportunities.
Together, let's revolutionize the way we handle tax filings!