How it works
---
Filing your non-resident tax (Modelo 210) in Spain has never been so easy.
Create an account
Register to create an account or log in. Start for free, pay only on submission.
Fill out your information
Using our simple questionnaire, enter the property and owner details. We provide step-by-step guidance and examples to help you. We will then calculate your tax for free.
File and relax
Then simply choose how to pay your tax and relax, while we e-file your Spanish non-resident tax return (Modelo 210) with the AEAT.
Why use IberianTax to file your Modelo 210?
---
Quick
Create an account for FREE and start right away. File your Form 210 online within minutes.
Simple
Questionnaire based, data entry form, with step-by-step guidance. No tax knowledge required.
Low Cost
Cheaper than any Tax Consultant or Accountant, who's prices can cost around 120€. Our service costs from only 34.95€!
Online payment
No need to be in Spain. You can file your 210 Form online anywhere, anytime. We also offer 3 payment methods.
Accurate
Our software has been developed by tax experts with years of experience filing non-resident taxes in Spain and has in-built checkers to ensure 100% accuracy of tax calculations.
Secure
We use data encryption to ensure the highest level of security. All of your private information is securely saved and we also offer secure payment options.
File your Spanish non-resident tax.
Register for FREE.


Only pay when you are completely satisfied.
Our service fees
---
All prices are inclusive of VAT. Pay only when you file. No subscription costs or hidden fees. Prices are progressively reduced when there is more than one owner.
User Reviews
---
We think our service is estupendo!
But don't just take our word for it. Here's what our current customers have to say!
As a property owner non resident of Spain , I utilised iberianTax software to complete my taxes and the service is 1st class. Highly Recommend. Ohh do...
I found IberianTax to be friendly, professional and highly supportive, with quick and detailed responses to questions I asked. I would definitely reco...
IberianTax is cost effective and they provided me with a very fast efficient service. Thanks Iberian.
We experienced an excellent service, great savings and a streamlined process to file our tax returns.
I am very grateful for the help and service I have received from the people at Iberian Tax. I would highly recommend them and they have good prices.
Very professional service and approach. They do take that extra step towards your needs. Prompt response makes your questions answered within minutes....
Very easy to use service, helpful support for the questions i had. Will use again next year. Recommended.
One of the best platforms to DIY your Spanish taxes. I used to pay double for a service that can be done in just a few minutes. And the consultants ar...
Check out more reviews on Google.
Trust that your non-resident taxes are accurate
Verification of the entries
All data is thoroughly checked for accuracy and completeness in adherence with the valid format for Form 210. Mandatory information is never omitted, and all data is accurately inputted into the correct fields.
Online tax calculation
Your tax liability is calculated automatically in accordance with the Spanish Tax Law in force. You can see your expected tax bill for free and before filing your non-resident tax return.
Automatically save progress
Complete your non-resident taxes at your own pace. We'll automatically save your progress, allowing you to continue where you left off until the return is completed.
Tax office collaborator
IberianTax has been certified by the Agencia Tributaria as a collaborator, so we are authorized to submit your non-resident taxes to the tax office on your behalf.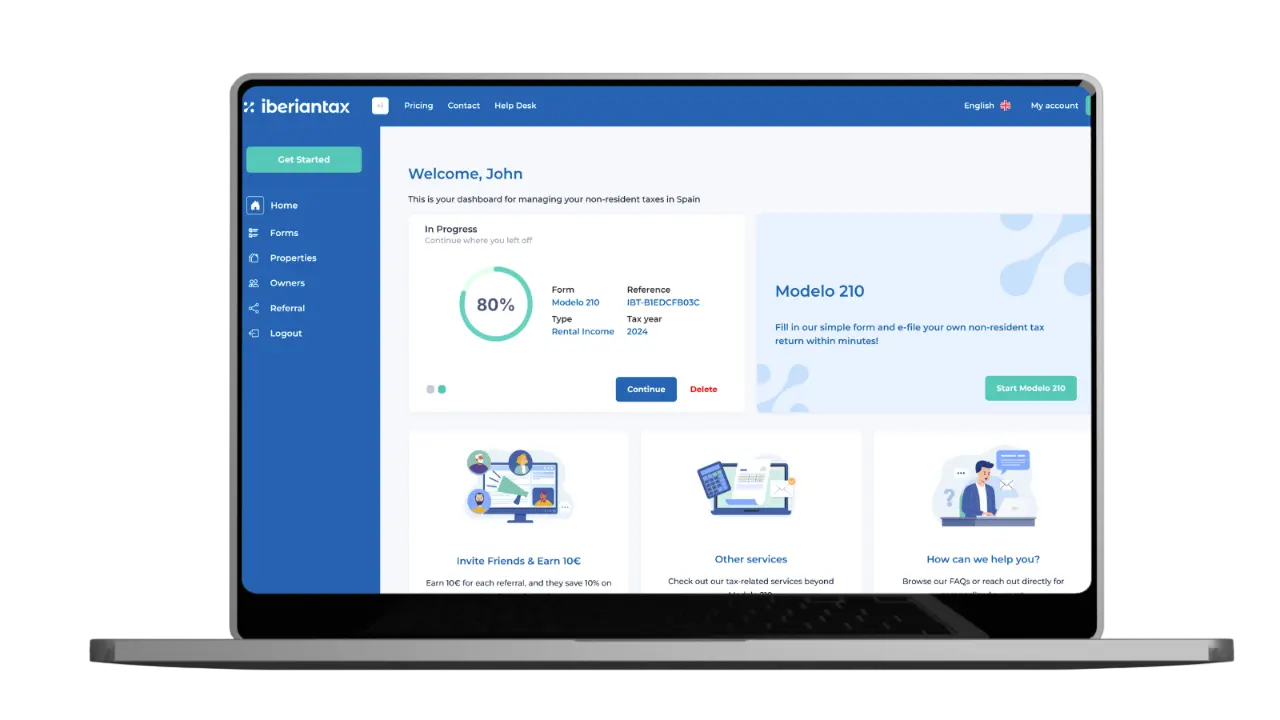 The simple solution to filling your Modelo 210.
Save money, time and file online!
Frequently Asked Questions
---
If you have some other questions, please check our FAQ page or contact us.
Am I resident or non-resident?
In general terms, if you spend less than 183 days in the Spanish territory during a calendar year you are non-resident in Spain for tax purposes.
Do I have to pay tax on my Spanish property?
Yes, you do. You can pay either on the profit you make from renting out the property and/or on the imputed or deemed income for having the property at your disposal.
How much is non-resident tax in Spain?
Non-residents are subject to a general flat rate of 24%. However, a 19% flat rate applies for tax residents in EU member states, Norway and Iceland.
Can I pay my non-resident tax online?
Yes, with IberianTax you can pay online anywhere, anytime! So, there's no need to be in Spain. You can file online at your convenience, and we provide three different payment options for you to choose from.
Is my personal data secure with IberianTax?
Definitely! We take the protection of your data very seriously. Your personal data is stored and used in a secure way. We only collect the data required to prepare your tax returns. We will never sell your data or use it for a purpose other than filing your tax return.
What do I need to get started?
Getting started with IberianTax is easy. All you need is your email address to create a FREE account. Once you've done that, you can start filing your non-resident tax by completing our simple questionnaire.