6 reasons to file your Spanish non-resident taxes with IberianTax
December 2, 2022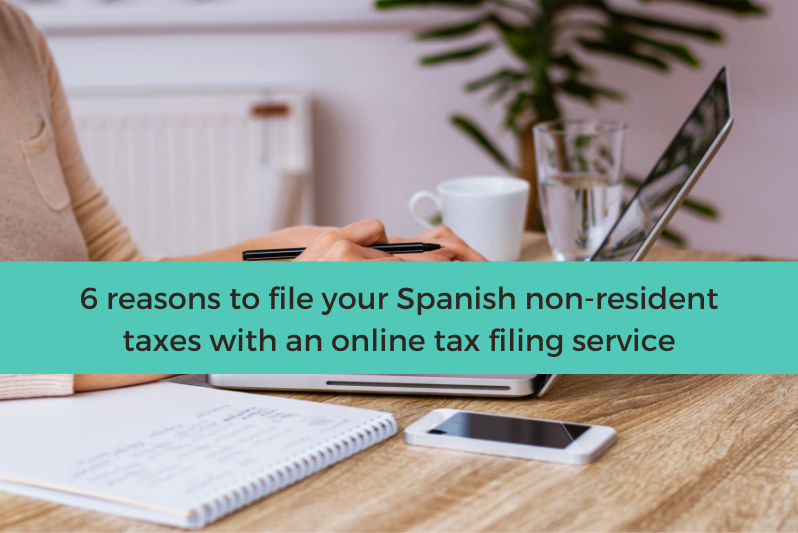 Each year, thousands of non-resident property owners are required to submit their annual tax returns in Spain (Modelo 210). Some are brave enough to file online via the government website (sede.agenciatributaria.gob.es). However, for the majority, it might be difficult to be up to date with the complex Spanish tax system and deal with the official website in Spanish and no assistance.
On the other hand, the tax office does not make easy the payment. For example, the official website does not allow setting up a Direct Debit order if the taxpayer doesn't hold a Spanish electronic certificate in force. Payment via bank transfer is also quite confusing and not risk-free if a mistake is committed.
Those are just some of the reasons why a large number of taxpayers still use the service of lawyers or "gestorias". These options are usually expensive and may not always provide an efficient service. Fortunately, there are other new solutions that can help you with your Spanish tax obligations for a more reasonable fee and of course excellent customer service. Here are some reasons to use a self-Assessment tax return software such as IberianTax.
1. IberianTax can save you lots of time
On average, filing your non-resident tax return with IberianTax takes non longer than 15 minutes. Barely 2 minutes if you are already a client.
Reviewing the Spanish legislation in force, understanding the new changes on the Agencia Tributaria website or filling out your own tax return at the official website, could take many hours and in most cases without having the certainty of having done it well. There's probably a very long list of things you would much rather be doing than filling out your Spanish non-resident tax return. Your time is precious, so you may want to finish it as quickly and painlessly as possible.
If you fill in your tax return via IberianTax, you'll get the job done quickly and accurately saving you time and effort. Our Spanish tax filing software provides time-saving shortcuts, quickly guiding you through the parts of the non-resident tax return that are relevant to you and providing support if needed.
2. IberianTax can prevent basic mistakes
It can be easy to make mistakes when completing a non-resident tax return, which can cost you lots of time and money. For example, when it comes to tax calculation, we noticed that a significant number of taxpayers have unintentionally made mistakes when calculating the tax due.
That's very unlikely if you use a Self-Assessment tax return software designed to prevent basic errors. Prompts are generated if it looks like you've got something wrong, enabling you to quickly correct any mistakes in your Self-Assessment tax return. Our calculation tool is always up-to-date and in line with the latest Spanish tax legislation and the Agencia Tributaria criteria.
3. IberianTax is very easy to use
You don't need previous tax know-how if you use our tax tool. IberianTax is designed with the user in mind, users with very limited Spanish tax knowledge, so it's very user-friendly.
You don't need to be an expert to complete your Spanish non-resident tax return.
4. IberianTax can keep your Spanish non-resident tax returns organised
A Self-Assessment tax return software enables you to complete your returns online. These are then stored digitally, itemised per tax year and type of declaration. You will have access to your Spanish tax returns wherever and at any time.
5. IberianTax offers reliable customer support
Using IberianTax allows you access to our comprehensive customer support that you can access if you ever get stuck or need any clarification regarding the Spanish tax system.
We want to make sure that your taxes are done right but also that you understand what you are paying for.
6. IberianTax can save you hundreds each year
Using our tax filing service is much cheaper than any lawyer or "gestorias". Why is so cheap? The reason is simple, we are focused on non-resident taxation which allows us to be very efficient when providing the service. Our online tax tool helps us to reduce unnecessary costs that we prefer to invest in customer service.
If you are currently paying a Spanish accountant to complete and file your tax return for you, using an online tax filing service instead could offer you significant savings for the same declaration and result.
IberianTax is the leading self-assessment tax software in Spain that offers you an easier way to complete and file your Spanish non-resident tax return. Start for free now!
modelo 210
self assessment software
non-resident tax spain
spanish taxes online
form 210